The SkinNYC has Compiled a List of the 2014 San Diego Comic-Con Biggest News Releases and Announcements all in One Place
The 100,000 attendee event commenced on Thursday, July 25th and ran until this past Sunday.  Four days of geek stuff and every day more and more juicy info was released.  For the other unlucky 7 billion of us who weren't in attendance you don't have to look any further in your search for information!  Here's a run down of what you missed out on this year at the 2014 San Diego Comic-Con:
1. Ubisoft brings an entire Assassin's Creed Parkour course to Comic-Con!
In assassin's creed, the player must run, roll, jump and perform other feats of agility to complete missions in true assassin style.  In anticipation for Assassin's creed Unity, the upcoming title in the franchise, the game's publisher brought an obstacle course to simulate the game! Definitly an A+ for originality on Ubisoft's part, although we expect nothing less after last year, when they brought an actual Pirate Ship to Comic-Con!
[youtube]https://www.youtube.com/watch?v=YshpYGPyruE[/youtube]
2. Skylanders: Trap Team vs. Disney Infinity
-Both the Skylanders and the Disney Infinity franchise work on the same formula: collectible figurines meets video game! Both franchises have been wildly successful, and both made shows at this years Comic-Con.
Skylanders made their Comic-Con debut this year, and has brought a playable version of their upcoming game Skylanders Trap Team, due out October 8th. They've also brought over $5000 in prizes for their cosplay contest this year. Next to Call of Duty, Skylanders is one of Activision's largest franchises, worth over 2 billion dollars, so we sort of expected such a 'surprise' showing.
Disney Infinity 2.0 is also slated for a release later this year, but they took a different approach to Comic-Con, announcing more playable characters. Firstly, a dedicated Guardians of the Galaxy playset was announced (along with a more general announcement that the Guadians of the Galaxy were going to get a lot more support in general Marvel games and media, in anticipation for their new movie and Avengers: Age of Ultron.) Secondly, Marvel let it slide that the Green Goblin, Loki and more would be playable in the new Villains pack. Lastly, Disney Infinity announced Tinkerbell, The Hulk and a flying bed from Bedknobs and Broomsticks have been added as playable in the iconic Toy Box Mode (the sandbox mode of Disney Infinity).
3. Nintendo Played Super Smash Bros. with attendees
Never one to be outdone by the competition, Nintendo not only brought a game to play at Comic-Con, but they played it with you! Nintendo set it up so that people could take photos of themselves at specific locations and tweet the photo to Nintendo. If chosen, they would be contacted through direct message and met to play Super Smash Bros. 3DS with actual Nintendo employees. The Wii-U version was also playable at a designated stand. Seeing as Nintendo's Wii-U sales are low compared to the competition they're banking on Super Smash Bros. and the upcoming Zelda game to boost sales. Likewise Super Smash Bros. and the mysteriously MIA Pokémon Omega Ruby and Alpha Sapphire are expected to help boost 3DS sales.
4. Halo Makes it's show at Comic-Con in two iterations:
Both Halo: Nightfall, an upcoming live action series on Xbox, and Halo: The Master Chief Collection, made a show at Comic-Con. Halo: Nightfall had an entire panel devoted to it, where executives and stars of the show talked lore, storyline and tie-ins with the upcoming Halo: 5 game. The entire panel is actually online as are the others, and free to watch if you couldn't make it out to Comic-Con this year.
The Halo Master Chief Collection announced that it would be keeping all of the original multiplayer glitches from the games in the new compilation. 343 Studios has stated that all they did was take the game and give them a massive overhaul graphically, leaving everything else exactly the way it was. It is also possible to toggle between the new graphics and the old ones, and all of the game's multiplayer maps have been included, bringing the grand total to over 100 maps.
5. Avengers: Age of Ultron vs. Batman vs. Superman
Marvel and DC also went head to head, Marvel bringing more info on the sequel to the widely sucessful 2012 Avengers movie. They released movie posters throughout the Comic-Con, to help whet out appetite, and also had a designateed panel talking about the movie, and teased that The Vision would make an appearance in this movie. Avengers: Age of Ultron is set to hit theatres May first.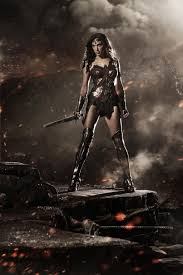 DC and Warner Bros. definitly took their time showing up at Comic-Con, and had many of us afraid that we wouldn't even see Batman vs. Superman. Though we didn't get a lot, we did eventually see an epic Batman vs. Super man teaser, and Zack Snyder himself took the stage to confirm he was shooting recently. They also took the chance to tease a bit of the new Wonder Woman movie as well, even though it was just a picture made live on the facebook page. They also brought a Batman cowl that was designed by Snyder himself, though it wont be the one used in the new movie.