"Time once again for an important Galaxy News Radio public service announcement." It seems the hip, wild, and insanely popular new mobile Fallout spin off has finally landed in the Google Play Store. After racking up some impressive numbers during its debut month on the Apple Appstore (Over 1 BILLION sessions played) it's made its way across the pond to our favorite Samsung and HTC devices. I've spent a little tim with the game myself, and I've compiled a few pieces of advice for those already in the midst of surviving Fallout shelter, as well as those who are debating downloading the game.
But first, a quick infographic Bethesda released detailing some of the other impressive stats from Fallout Shelter:
Now for those of you that have been surviving fallout Shelter since it's release some things have been made abundantly clear:
Merging the 4 base room types (Power Generators, Water Treatment, Lining Quarters and Dining Halls) is probably the most efficient thing you can do early on.
Special characters are a godsend. They can do anything from scouring the wasteland on your behalf to boosting production in certain rooms.
Placing your other dwellers in rooms that best fit their SPECIAL attributes also boosts production and keeps dwellers happy.
Raising the health of the vault door does pretty much nothing, and there's no use putting dwellers to guard the main entrance when you can just arm all the dwellers in the first room.
Endurance is only useful for dwellers exploring the wasteland. Luck boosts the rarity of things found in the wasteland, but also increases the chance of successfully rushing a room.
NEVER skip a quest that gives a lunchbox as a reward.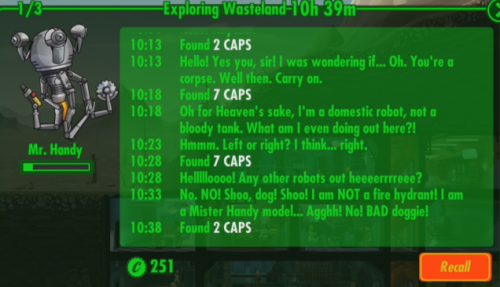 Now for everyone on Android focused on surviving Fallout Shelter, there are a few added bonuses that came with the update that are sure to delight:
Deathclaws can now assault your vault in place of raiders, and yes they're just as dangerous as they were in the original game.
Molerats can now infest the vault. As far as I can tell, they're no more than a nuisance.
Mr. Handy is by far the greatest improvement to the game. He collects resources and helps fight off raiders in the vault, and he's hilarious in the wasteland collecting caps. Not to mention he's super good at it.
There's really no reason not to try Fallout Shelter yourself, whether on Apple or Android.
Fallout Shelter can be found on the Google Play Store here.
Fallout Shelter's most updated version on the Apple AppStore can be found here.