British musician Konyikeh has just released her highly-anticipated debut EP, Litany, following her captivating debut singles "Sorrow" and "Teenage Dreams" earlier this year.
Accompanying the EP's release is the introspective focus single "Joy and Pride", accompanied by a revealing visual that reflects on religion, family, and taboos. In Litany, Konyikeh brings a sense of liturgy and plaintiveness to her soulful music and profound lyrics, transforming her sorrows into art.
The title Litany, referencing a repetitive prayer in Christianity, reflects Konyikeh's emotional journey and her upbringing in the Catholic Church. The EP, largely produced by British producer Charlie J Perry, serves as a collection of prayers to herself, offering solace during dark times.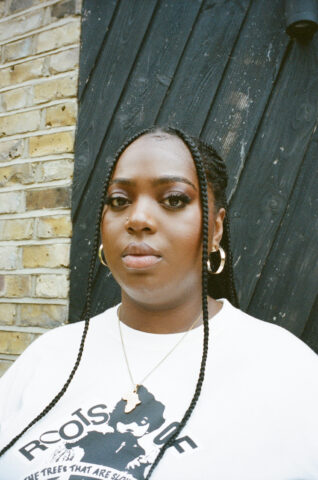 If Konyikeh's voice sounds familiar, you might remember her from her performance at the 2022 BRITs, opening for Dave's "In The Fire". Now at 23, she is poised to shine in her own right, with the EP marking a significant milestone in her career.
Raised in a home filled with music, Konyikeh's diverse influences range from classical music and opera to Jennifer Hudson and Destiny's Child. Her musical formation was shaped by exposure to traditional African music during car journeys to her violin lessons, as well as her Cameroonian and Jamaican heritage.
Konyikeh's journey has not been without challenges, facing racial and financial barriers in the classical music world, and personal difficulties at home. In her music, she channels her experiences of displacement, growing up in predominantly white environments, into a powerful expression of self.
Available now across all digital platforms via Jorja Smith's FAMM label distributed via The Orchard — LISTEN HERE. Stay tuned for more releases from the incredibly talented rising star, Konyikeh, whose voice is making waves in the music.
featured image by Ivor Alice