Lanyu FW17 collection proves every great dream begins with silk and cashmere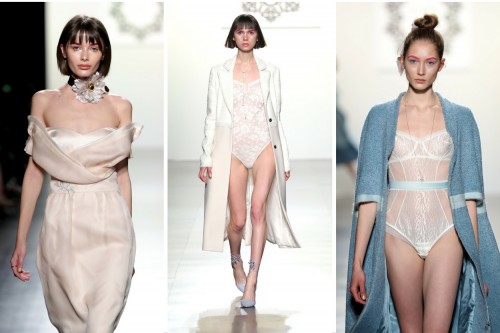 The Lanyu FW17 collections vision came to life this week.  Having sat front row of the runway show, I had the chance to live designer – Lan Yu's dream.  As fitted silhouettes of various fine fabric floated down the runway in powder pink, sky blue, mint and ultra calming jade hues I felt a calming yet lively sense of energy.
The designers second time down the NYFW runway, she drew inspiration from her mother's hometown of Suzhou.  A city Lan Yu says is "physically and culturally defined by water."  She created the Lanyu FW17 Collection through memories of Suzhou's architecture, majestic bodies of water and its serene nature.
"My childhood memories are muddled, almost like a dream, but I remember the city taking on a lively energy, even when things were serene." – says Lan Yu

Experience the beauty of Lan Yu's dream for the Lanyu FW17 Collection.  View the photo gallery