a Little Salt & Pepper Goes a Long Way
Del Frisco's Double Eagle Steakhouse does amazing things with a little Salt & Pepper – when it comes to luxe eats.  On top of it all, my experience is always superb.  Whether wearing jeans & a t-shirt or my Sunday's best, Del Frisco's staff is equally attentive.  In fact, I became obsessed with the 13-location luxury restaurant chain when I was expecting Lucien – wearing baggy sweat pants.  I did not have exact food cravings, but EVERYTHING on Del Frisco's menu satisfied my unborn.
Almost one year has passed since I last enjoyed Del Frisco's NYC.  But I quickly realized the revamped menu presentation and expanded selections.  My usual drink of choice is a glass of Moscato (Yes I know it's a dessert wine, but I don't care… I love it and I drink it with any course).  This time I went with the new Blood Orange Manhattan and I was surprisingly happy with my cocktail of choice.  A drastic change from my usual, but such an unexpected twist on a New York City classic. I also noticed the addition of the Plum Rosé and the Elixir Cocktail's; both of which boast hints of lime.
Moving onto apps, I went with an oldie but always goodie Del's Jumbo Lump Crab Cakes and a newbie Seared Hudson Valley Foie Gras.  I've enjoyed Foie Gras as an extra.  Meaning a simple but luxurious topping on a $2000 – 24k pizza.  Paired with homemade strawberry balsamic jam and topped with shaved white chocolate, Del's gave the luxury food a show of it's own.  Although I did not order it, the Charred Octopus deserves an honorable mention.  Served atop a bed of gigante beans, tomatoes, olives, capers and arugula topped with lemon and cold-pressed olive oil.  The guests at the table across from me ordered it and I instantly wished I had too.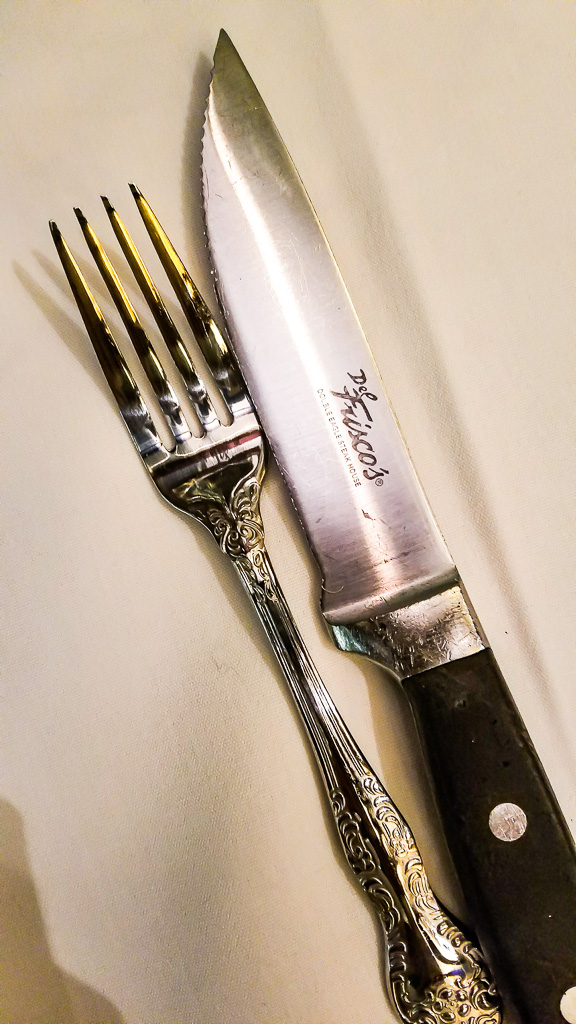 My main course consisted of an 8oz Filet Mignon, salt & peppered to perfection.  To complete the sequence I ordered sides of: Chateau Mashed Potatoes, Lobster Macaroni & Cheese and Spaghetti Squash Gratin, which consisted of parmesan cream and roasted pistachio.  I couldn't have imagined those ingredients meshing together to create such an explosion on my taste buds.  There is also an Expanded Dry Age Program, including "The Double Eagle,".
"a 45 Day Dry Aged Double Bone-in Ribeye and a 14 Day Dry Aged Lamb.  The new namesake "Double Eagle" cut is carved tableside and served with three flavored salts (pink Himalayan, porcini mushroom and black lava) and a brushed gold medallion hanging on the bone which guests can take with them as a memento. Emanating rich hazelnut and blue cheese notes, the salts further add to the steaks earthy flavor for a true taste explosion with each bite."
I had an enjoyable meal and I left super stuffed with no room for dessert. It's safe to say that I approve of the new menu items.  In fact, I can't stop thinking about what the Uptown Del's Potato must taste like with Melted Fontina, Chives & Shaved Truffle – YUM!