I scream, you scream, we all scream for WINE ICE CREAM! Mercer has finally blessed us with wine ice cream, a magical combination of creamy ice cream and our favorite white and red wines!
This new combination comes in a variety of flavors, each one embodying a different type of wine and blending it with a complementary ice cream flavor to back it up. The results can be wildly different, from the Reisling flavor that starts off with a fruity sensation and leaves a crisp dry aftertaste, to the Port, with its almost perfect blend, making it hard to distinguish either of the two components as separate entities.
While it is available in the pint at choice retailers in a few states, it is worth mentioning that Mercer's is willing to ship their treat to anyone in the U.S. overnight. They don't have an online store though, so you'll have to call the store during the day to place the order. I was lucky enough to live in a place where it is sold, though I had to go to 5 separate stores in order to find the Chocolate Cabernet flavor. And have your wallet ready, because I was asked for ID and $6 a pint on each occasion that I did purchase it.
The reason Mercer's wine ice cream stands out from the rest is that it's 5% alcohol content means that it can actually leave you with a bit of a buzz. In the name of science, I tried out a few of the flavors in a few different scenarios to see just how potent the treat could be.
First, I had about a third of a pint of the Reisling and a little bit of the Chocolate Cabernet before heading out to drink at a local bar. I didn't initially fell the buzz, but once inside the establishment drinking, it took noticeably less alcohol (One drink to be exact) to cross buzzed into the realm of nearly intoxicated. So I guess it's safe to say Mercer's makes for a good pregame companion.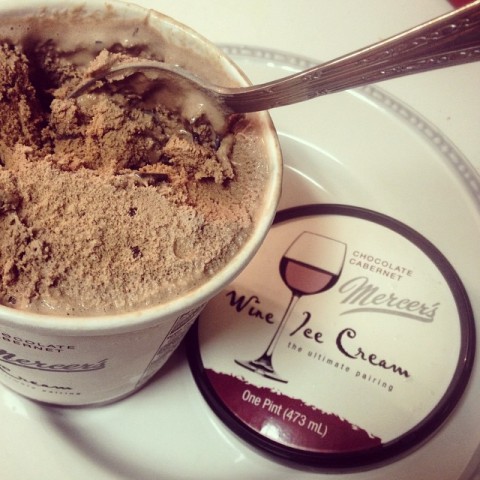 Secondly, I tried the Port on an empty stomach early one morning. I ate a third of a pint across a ten minute span, and then lazed around the house for a bit. After about 15 minutes, I did notice that I was a tad bit buzzed. And this buzz, while slight in efficacy, persisted for over an hour! hallelujah!
Lastly, I gave my girlfriend a gallon of the White Zin and a copy of the Notebook and promptly broke up with her, taking our two children with me on the way out of the door. Haven't been back home to check out the results of that experiment yet!