My First Broadway Musical: Side Show
Not much of a theater geek, but I received an invite to attend the musical "Side Show" and I jumped at the chance. Living in New York City for 7 years, I had never attended a Broadway production; you can't truly be a New Yorker without having a Broadway musical under your belt.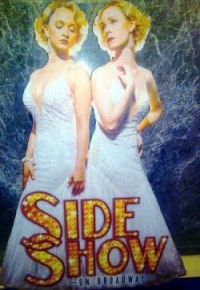 Side Show, a bit dark and intense; but true to the 1930's.  This rework of the original is directed by Academy Award – winner Bill Condon (Twilight: Breaking Dawn 1&2, Dreamgirls) and boasts an all-star cast.  It follows the real-life story of Daisy (Emily Padgett) and Violet (Erin Davie) Hilton, conjoined twins who were slicked into a life of being a public spectacle and audiences gawking at their handicap.
The young girls go through life as freaks wishing for a normal life and become vaudeville superstars fantasizing about love and acceptance, as does every act in their exhibit. In addition to the main story, Jake (David St. Louis) and Buddy (Matthew Hydzik) had their own struggle, as they finally gain freedom to live their lives. Jake spent years protecting Daisy and Violet; Buddy spent latter years training the girls vocally. But both Jake and Buddy have secrets considered taboo. While racial and sexual discrimination were evident in this period, so too were the sentiments of strength and opportunity.
The sideshow eventually closes, but Half Man/Half Woman (Kelvin Moon Loh), the Fortune Teller (Charity Angel Dawson) and the Geek (Matthew Patrick Davis) have found acceptance and love through each other and turn a negative into a positive by opening a successful bakery.
Overall, I loved the musical.  I am saddened to learn that Side Shows final curtain will close January 4th 2015.  If you have not seen "Side Show" on Broadway, I urge you to check it out.  Although set in the 1930's, the musical echoes sentiments of the discrimination, struggles and triumphs we still go through today with awesome actors, lighting effects and stage props.
Tickets are available at Side Show Broadway.
St. James Theatre is located at 246 W. 44th St.