Professional heavyweight boxer, Seth "Mayhem" Mitchell(26-1-1, 19KO's) is just weeks away from a showdown with Chris "The Nightmare" Arreola(35-3-0, 30KO's). Coming off a rematch win against Johnathon Banks, Seth currently holds the NABO Heavyweight, and the WBC International Heavyweight titles. Mitchell will take on Arreola on September 6th, 2013 in Indio, California at Fantasy Springs. The championship fight will be televised live on Showtime Championship boxing. In this 12 rounder, both of Seth's current belts and possibly a vacant WBC Heavyweight Silver belt will be on the line.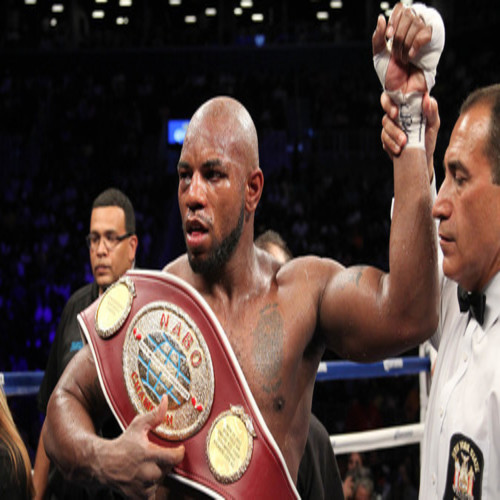 Seth was more than gracious to take time out of his busy training schedule to talk with me about his recent win against Banks, and his upcoming bout against Arreola. Here's what Seth had to say:
Tiffanie: So Seth, the last time we talked, you were preparing for the rematch with Johnathon Banks. You promised the fans a great fight, and a win. Well you delivered, how did you feel having your hand raised for the win?
Seth: It felt good you know, going into the fight I had a lot of things on my plate. I had a lot of adversity, a lot of distractions that could have deterred me from my main goal of getting the Win. I realize that it was a big fight for my career. So I was just happy that I was still able to stay focused from all the side distractions, and able to go in there and get the W. That was the main goal of mine, to get the W. After reviewing the fight, I would say that it wasn't my most exciting fight, but it definitely was a technical fight. That's the type of fight I had to fight, to win that particular fight, in order to set me up for another big fight. So I was very happy and pleased with my performance and game plan. I stuck to my game plan, and won the fight which was the most important thing.
Tiffanie: To reiterate, I know that you and your family were going through some tough times leading up to this fight, how did you cope and get through that? Mentally how hard was it for you to get through camp, and continue on to fight?
Seth: It was tough. Especially at home, because I kind of had to be the rock and not show as much emotion. I had to be that solid foundation for my wife and children. Going away to the gym is when I would shed most of my tears. Once at home I had to try to masque my emotions as best I could, but I have a strong wife, a strong family, and a strong support system. So they definitely helped me out and allowed me to try to focus as much as I could, because I had a big fight ahead of me. So I give credit to them as well.
Tiffanie: So you're practically taking zero time off. You just fought June 22nd, and you're right back at it. September 6th, you will be facing Chris Arreola as the main event on Showtime.Tell me how you feel going in to this fight?
Seth: I feel good! I'm excited about the fight. It's definitely a fight that gets your juices flowing, get that competitive edge going. It's a fight that amongst my team and I, we talked about this being a possible fight 8-10 months ago. It just so happens to be the fight now. Chris Arreola is a fighter who brings it. Even in his losses, he still brings it in each and every fight. So it's a fight I'm looking forward to. I'm looking forward to putting on another great performance, and definitely winning the fight. I feel very confident that I'm going to win this fight.