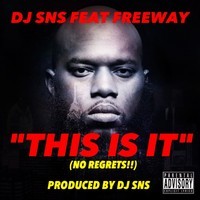 I just heard some fire and I had to create this feature so I could share it. The legendary DJ SNS shared the link to track "This Is It" (No Regrets). He produced it himself and features Philly's own Freeway. I immediately heard the song and ran with it. Freeway did a great job on it. Definitely reminded me of his days on Roc-a-fella.
The old school sample as the drop the lead the song me put me in driving mode for real. This beat was a great combination for Freeway to jump on. It somewhat draws a reminisce of  the classic single "What We Do" with Freeway, Beanie Sigel, and Jay-Z.
I hope you enjoy it as much as I did, catch it for yourself.
https://soundcloud.com/djsns/dj-sns-feat-freeway-this-is-it