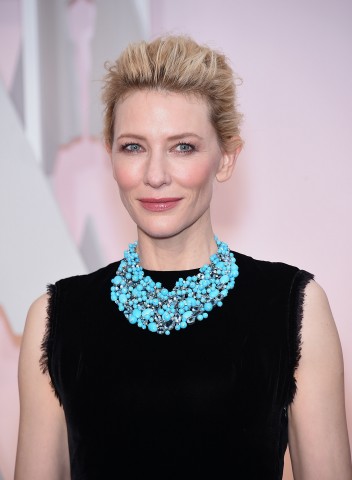 Celebrity Makeup Artist Jeanine Lobell Gives the Deets on Cate Blanchett's Oscars 2015 Beauty Prep
It has been almost a week and beauty nuts are still abuzz about Cate Blanchett's red carpet look.  One of the most noted actresses in Hollywood and 2015 Oscar's presenter, Cate slayed the red carpet in a black Masion Martin Margiela gown designed by John Galliano and a beautiful turquoise necklace designed by Tiffany & Co.  But the signature piece for her look, was the makeup.
Cate's Oscar 2015 look is totally achievable to give you the Oscar glow type of feel for this spring.  Cate's secret?  None other than SK-II; a skincare brand that she truly trusts and stands by.  Jeanine Lobell says:
"Since Cate's look was going to be a mixture of strong and soft femininity, I wanted her skin to be prepped and highly moisturized for our makeup application. I decided to use my tried and true jumpstarter, the SK-II Facial Treatment Mask which has all of the amino acids and minerals to hydrate and revitalize the skin."
After 15 minutes the Mask was removed and any left over product massaged into Blanchett's face.  Then Facial Treatment Essence was applied, many call it "Holy Water".  With the power of pitera, SK-II's Facial Treatment Essence moisturizes and smooths the skin.
"I then decided to indulge her skin with the Facial Treatment Essence, which I love because it not only improves skin clarity but over tonal balance as well. I mean, her complexion GLOWED," says Lobell.
The last and final part of the prep was Facial Treatment Essence Eye, which is formulated to brighten and wake up the under eye area.  Lobell says that the Facial Treatment Essence Eye was important because the eyes were the focus of Cate's look; a wide-smokey eye which she achieved with an Armani palette.  "We really wanted the makeup to bring out the blue in her eyes to compliment the necklace and for the necklace to compliment her eyes."  Adding to the look a neutral base neutral blush and neutral Armani lipstick, Cate Blanchett rocked the Oscars 2015 red carpet with a beaming glow.
And there you have a nice and simple skin care regimen for a beautiful glow this bring.