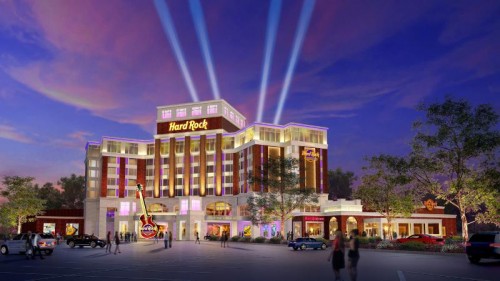 Hard Rock International has 181 Problems, but a Hotel & Casino ain't 1
The Globally recognized brand boasts 181 venues in 56 countries.
Hard Rock International brand includes 140 cafes, 20 hotels and 9 casinos.  Pairing with NYS Funding LLC, the international brand hopes to welcome a Hard Rock Hotel & Casino.   The proposed venue would feature a mix of gaming and non-gaming amenities, including casino table games, video slots, hotel rooms, and world-class food and beverage options.  It's destination would be DeLaet's Landing site along the Hudson River in Rensselaer, NY.
"Hard Rock International is thrilled to collaborate with NYS Funding LLC to potentially create a world class facility in Rensselaer within the Capital Region, as it would become an important economic engine for the community," said Jim Allen, chairman of Hard Rock International. "We look forward to lending our global recognition, strong legacy of philanthropy and entertainment, and proven experience to this project. We are confident that this Hard Rock Hotel & Casino will positively impact the community's economy."
While HRI is known for its world-class entertainment, the community of Rensselaer has high hopes that hosting the venue will boost its economy.  "Hard Rock is an internationally recognized brand known for high quality offerings across the globe," said Dan Dwyer, mayor of Rensselaer. "Introducing the Hard Rock brand to the region and to our city greatly elevates the excitement around this project and will make the resort casino even more attractive and successful as a destination for the local community and visitors alike."
As a world-class entertainment and lifestyle brand, Hard Rock Hotels & Casinos offer stylish and contemporary design, unparalleled service and the thread that unites them all – music. Hard Rock's current Hotel and Casino portfolio is located in the world's most desirable resort destinations, as well as urban gateway cities. The dynamic properties cater to the evolving and distinctive needs of today's cosmopolitan, modern travelers, who seek a reprieve from traditional, predictable accommodations, whether for business or leisure travel, and who connect with the authentic and powerful Hard Rock vibe.
Other upcoming new Hard Rock Cafe locations include Seoul, Vienna, Anchorage and Siem Reap. New Hard Rock Hotel projects include Daytona Beach, Aruba, Abu Dhabi and Shenzhen and Haikou in China.