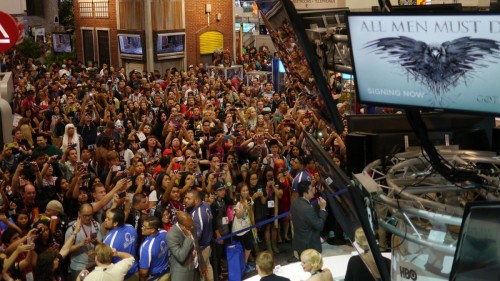 Game of Thrones Season 4 left GoT enthusiasts wanting more; more a month later HBO is giving you a taste of what's to come in Season 5 of its hit series, Game of Thrones.
Can't wait for Game of Thrones Season 5?  Well, you're in luck, this weekend during San Diego Comic-Con International, HBO revealed 9 new cast members who will play the Game of Thrones this upcoming season.  Through a video unveiled at Comic-Con, the following actors/characters introduced themselves:
[youtube]http://youtu.be/WH2ri8RhSnw?list=UUQzdMyuz0Lf4zo4uGcEujFw[/youtube]
1. Alexander Siddig as Prince Doran Martell – Ruling lord of Dorne and older brother of Prince Oberyn Martell
2. Toby Sebastian as Trystane Martell – Prince Doran's son and heir to Dorne.
3. Nell Tiger Free as Myrcella Baratheon – Officially the eldest child of Cersei Lannister and the late King Robert Baratheon, though in truth her father is Cersei's own brother, Jaime Lannister.
4. DeObia Oparei as Areo Hotah –  The long-serving captain of Doran Martell's palace guard, renowned for his loyalty and his longaxe.
5. Enzo Cilenti as Yezzan – An extremely wealthy slave trader before Daenerys Targaryen outlawed the slave trade.
6. Jessica Henwick as Nymeria ("Nym") Sand – The second eldest of the late Prince Oberyn's bastard daughters.
7. Rosabell Laurenti Sellers as Tyene Sand – The daughter of the late Prince Oberyn Martell by Ellaria Sand, his final paramour.
8. Keisha Castle-Hughes as Obara Sand – The eldest bastard daughter of the late Prince Oberyn Martell.
9. Jonathan Pryce as the High Sparrow.
Now that you know the new faces of GoT Season 5, who do you think will be first to be killed off next season of HBO's hit series Game of Thrones?