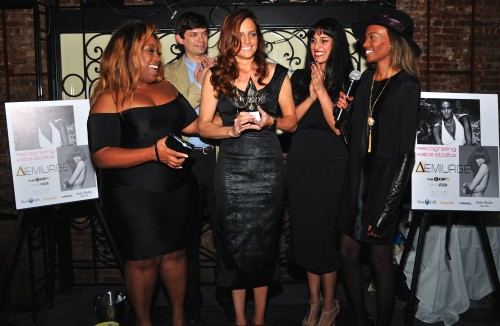 The Skinny NYC Makes a Bold Move by Recognizing TV Personality/Model and Fashion Designer – Kate Stoltz as a Creative Force in NYC
The Demiurge Awards was nothing short of stellar and proved to be a bold move for The Skinny NYC as an up and coming entertainment news source, as well as, its partner TDR Television and its sponsors What The Doost, Star Gifts, branded content platform – Cooperatize and non-profit organization TAZAQ.  With Chris Lanston on the Beat and Jason Kessler on hair, Kate clearly came to slay.  The beauty dazzled the crowd in a regal self-designed dress as she radiated happiness and appreciation of her hard work being recognized.  The nights special guests included: Tracy Balan of Lifetime's Girlfriend Intervention, Fashion designer Henry Picado and the spellbindingly gorgeous Mercedes Edison.  Also in attendance were TLC's film crew; as they followed Kate for this awesome occasion and will appear on this seasons Breaking Amish.
The semi-annual award show pays special attention to the skillfully adapted; who create, produce and bring business to NYC through innovation.  While you do not have to be NYC born, you must live in NYC and bring business to the city as part of its qualifications to be considered.  The word Demiurge originates from the latinized Greek word "demiourgos" meaning craftsman or artisan.  Stoltz of TLC's hit reality show: Breaking Amish has quickly shifted from demure to demiurgic.  Having relocated from a small town in Pennsylvania to the Big City, Kate has made her reality TV stardom more than worth it by adding to her catalog a thriving modeling career; currently a member of the model management powerhouse Major Models and most recently unzipping her artistry in Fashion Design.
If you missed the Demiurge Awards check out the photo gallery and stay tuned for exclusive video footage of the awards and festivities.
Also make sure to catch EXCLUSIVE #BTS photos via instagram @DemiurgeAwards
[rev_slider Demiurge]
Photo Credit: Rebecca Perry (@FollowsTheStars Photoraphy)