Fall brings about 2 things: 1. Snow and 2. The Holiday season.  While almost certain NO one is looking forward to the initial, the latter is well celebrated.  During this holiday season it isn't hard for meat eaters to find delicious food; however Vegetarians and Vegans are mostly discounted and left to eat soy and tofu slop.
For years Vegetarian's and Vegan's alike have been privy to soy and tofu slop on holidays.  But as of recent many companies have been seeking to give vegetarian's and vegan's the memories of their once an evil meat eater experiences.  Vegetarian Plus has a vegetarian/vegan turkey which is about as meat-like as it gets.  The turkey is 6lbs of soy and is shaped into a turkey complete with a cavity to stuff the turkey.
The only suggestion is that you make your own gravy; you can find a recipe below for Roasted Garlic Gravy which is 100% vegetarian & vegan and equally delicious!  Add a few sides such as mashed potato, sweet potato, collard greens, corn on the cob & cranberry sauce…  Bon Appetit, Buon Appetito, Enjoy Your Meal!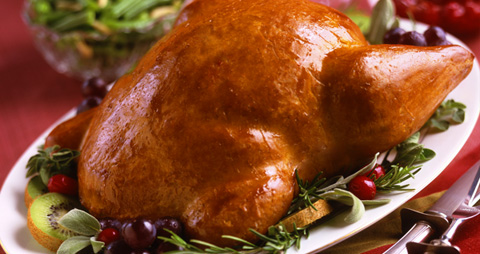 1 head garlic
1 Tbsp. plus 1 tsp. olive oil
1/4 cup flour
3 1/2 cups vegetable broth
Salt and pepper, to taste
• Cut off the top of the garlic head, exposing the tops of the bulbs. Place in a small baking dish and drizzle 1 tsp. of olive oil on top. Bake, covered with tin foil, in a 375°F oven for 1 hour, or until browned and soft. Remove from the oven and let cool, then remove the cloves from the garlic head.
• Put the cloves into a bowl and mash well with a fork.
• Heat 1 Tbsp. of olive oil in a saucepan over medium heat. Add the garlic and flour, whisking constantly, until lightly browned.
• Whisk in the broth and bring to a boil, whisking constantly. Season with salt and pepper.