The 2013 VMA's are quickly approaching; I am excited to see who's wearing what, whose dating who and who may accidentally fall off the stage onto some unsuspecting fan!  Before beauty shows us where its  going we must take a walk thru where its been.  I took 4 of the top red carpet looks from 2012, pulled them apart and put back together their looks.  Kudos to their MUA's for keeping them in trend and fresh faced; from the skin to the mix of textures, the eyes and the perfect lips these faces beats were BEAT on point!
Rihanna I must say was number 1!  Im not a big Rhi Rhi fan, however she owned this look!  She is known for her red lip.  I think she may have been getting you ready for her MAC Rhi Rhi Woo!  The skin was perfect and looks like she was wearing a natural matte foundation, with a soft highlight around the eye; Highlight placment was perfect!  She has amazing cheekbones and that just enhanced the look overall.  A blush was dusted on her cheeks and swept high. They used a bronze tone and skimped on the glitter. When I saw her I saw Lips, Lashes and Brow! You want to pull this look off? Try MAC Ruby Woo lipstick and Cherry liner.
Katy Perry! Bold eye and dark lip were executed perfectly! Her MUA put the perfect intensity into that smokey eye without making it vampy.  Her wow factor were those eyes. Try this look with Smashbox PhotoOp eye pallet or use a coal eye pencil like MAC Smolder and a 217 brush to blend. Put a base on the eye first, like a colored eye primer; MAC makes several but Dangerous Curve will work perfect on most skin tones. Use the paint pot all over the eye lid up into the crease. Then use the coal pencil and trace around the eye.  Bottom and top lashlines should be outlined. Use the tip of the brush to smudge and blend the liner out around the eye.  Add a double duty mascara.
Miley Cyrus was on point with her dewy skin, its so in trend right now.  A radiant youthful glow is what you should be looking for, Miley's MUA found it!  The winged out liner and a nude lip completed her look.  That bold brow made a statment with the contrast to her blonde hair. Mileys eyes and brows stand out but Im really loving the nude lip. A good nude is hard to find! Viva Glam11 also a MAC lipstick is a good recomendaton for most skin tones, the trick is change up the lip liner.  Look for a liner close to your skin tone and line the lips, but fade them in a bit. Then apply the lipstick on top. Its a Satin finish lipstick so if you want a little shine add a sheer gloss just to the center of your lips and press together. dont forget to pair it with your dark eye. Sexy is raidiating off you. Get em girl!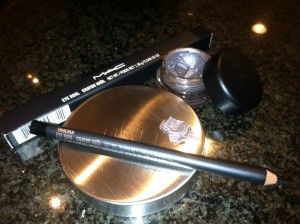 All four glam girls were rocking that dew glow skin. Armani silk foundation, MAC Mineralize liquid, Orgins CC cream are all great lines to try to achieve this look.  This trend is called Perspective. Glossy maniquin plastic like skin, powder only where needed. Skin care is going to be essential to this look!
Taylor Swift. RED. need I saw more? Red lip does it again. Looks like you guys and dolls need to be on the hunt for that perfect red lipstick.  #104 Channel lipstick Rouge Allure called Passion is a vibrant amazing red. Rich in color, this lipstick feels good on your lips and last quite a while too!  Use a Lip primer first like MAC  Prep and Prime LIP. This will help keep it in place and keep from feathering (those cracks and lines you may get in the lip).  Taylors skin definetly enbodied the current trend. Perfect. Plastic. For that porclin look try MAC Matchmaster foundation use a MSFN by MAC to set and add the highlighter pens for a sublte built in highlight. Notice the flawless skin however not a lot of blush or Bronze built on.  The artist kept it clean and simple to really keep focus on that red lip.
I cant wait to see whos in trend and what Nicki Minaj look will be; I predict  a lot of color this go round.  If the MUA's stay true to their craft there will be some dark wine stained lips, dewy perfected skin and perfectly smudged eyes.  Well shall see!