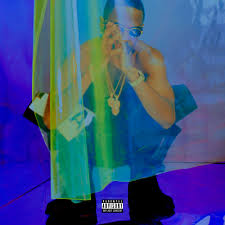 The Summer's almost over, and every since June 25th I've listened to every album that's dropped thinking "Will this be the album that finally forces me to take Born Sinner off of repeat?" Now it's August 28th, and until yesterday Born Sinner was still on repeat. Yeezus, Magna Carta: The Holy Grail, The Gifted, Doris…I've given them all listens of varying degrees of enjoyment, but none have held my interest long enough to break Born Sinner's grasp on my attention.
But then  picked up Hall of Fame. Anyone who reads anything I write will know that I've been following Big Sean & J. Cole for a while now, and that's because I see so many similarities in their work. Now, this Summer is reminescent of Looking For Trouble, where there's a bunch of rappers all doing their own thing, but the only one's standing out are Big Sean & J. Cole.
As for Hall of Fame though, it's definitly an album in a calibur all its own. It goes from philisophical to lyrical to unique and just when you think it can't get any crazier it makes the jump all the way to strange, uncomfortable, weird & all the way back to romantic!
The album starts with Nothing is Stopping You. It's not as smooth & comfortable as Curse of The Gifted, or as exciting & unforgettable as Villuminati, but it definitly is…interesting. The instrumental actually sounds like it would be more comfortable on Yeezus or Doris, but Sean takes it and makes it his own. When I first heard it, I actually began to worry about the rest of the album, afraid it would be similar to Nothing is Stopping You by being…just a tad too unorthodox. Fortunatly, Nothing is Stopping You is for the most part one of a kind.
The second song, Fire, is one of the strongest songs lyrically, and one of the best on the album overall. Plus, being a single, it was a nice contrast to the intro to the album. It's followed by 10 2 10, another lyrically heavy song. Sean keeps the momentum going with You Don't Know, Beware & First Chain,with the first being a nice balance of lyrics & flow, and the second being debatably one of the best on the album and one of the better singles. First Chain immediatly brings you right back to Born Sinner, sounding like Chaining Day and reminding you of Let Nas Down with a feature from Nasty himself.
Now breaking down the first 7 songs of the album, I was really beginning to like what I was hearing, and felt like I wanted to go back & play a bunch of these over & over again. But then…things got a little strange…then more strange…then just not okay! Mona Lisa…just everything about it was uncomfortable. Lucily, Sean has an impeccable flow, because that was the only thing that got me through the song. Then there's MILF, which is funny, but completely unexpected. Nicki Minaj in on it too, sounding like Craig's girlfriend on Friday. And then there's Juicy J…enough said. Sierra Leone is just too happy sounding for me, until you get to the end & Sean does one of the most awkward sketches I've ever heard. He's on a hip-hop album, I'm a make, and the sketch involves him singing in the shower…I can't!
Honestly, I couldn't listen to It's Time all the way through, even Sean's verse couldn't save the rest of the song when Jeezy & someone called Payroll jump on it. World Ablaze is it's own problem. Actually James Fauntleroy is it's prblem. And I don't like being 100% negative, but this is the third James F. feaure that I think ruined the song…he's just not meant for Hip-hop.
But after all of that the album picks bac up again w/a Miguel feature & Switch Up, notably. He gets even more philisophical with All Figured Out, which was also a very strong song on the album. I think Hall of Fame has all the makings of a classic album. But only if you're willing to hit the skip button four or five times. I've added Control to the album on my ipod, because the song deserves to be on there, and helps to highlight the best part of the album: Sean's amazing ability to flow, to switch that flow up, and to stay strong all the way through. I think Sean is far from done in Hip-Hop, but he doesn't seem like he's found his sound or his niche yet, which is strange because he's had so much time at this point to mature and find that.